Now you will have the immortal David Bowie in your brain all day. You're Welcome!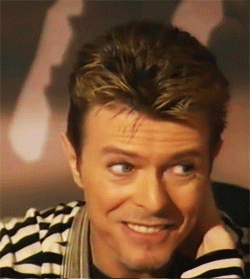 You may have noticed some changes to the appearance of my blog. I'm trying to make my site more readable for those with visual impairments. I'll admit when I chose the original theme I was not thinking about this at all but I've learned from my web development course and my PLN about accessibility and so I'm trying new things. Bear with me as the site changes and please let me know if there is anything I can change or add to enhance readability and accessibility.  Some widgets may not be available as I try to remember what was there and what was useful. This is very much a work in progress!
This is probably the least opportune time to be doing a site overhaul as I'll be submitting the blog for review for class in the next few days. I have thought about this, but I've decided that actually being able to read the site is paramount, especially when so many posts of late have been about accessibility.