One of my favorite Twitter and Facebook accounts to follow is Teen Vogue. It seems weird that a forty-something woman would follow Teen Vogue.
Teen Vogue is hitting it out of the park with their political commentary. It's so good, everyone's taking notice:
In her speech, the President former Secretary of State Hillary Clinton expresses that girls are just as interested in politics as they are in lipstick. And she's right. Young people are interested in politics and civic engagement. So why aren't school libraries doing more to foster it?
Too often libraries have thought of youths as something to be dealt with rather than engaged, even in the school library (Edwards, 2002).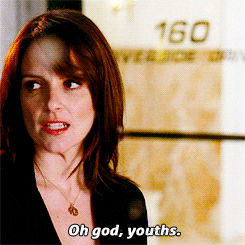 This is changing. Young people are getting more and more engaged with politics and their own education. Students have engaged in protests and used their voices to express issues they have with their education.
Students have stood up for their fundamental rights. Youth are engaged and enraged and schools aren't doing enough to give their students a voice.
Where better to foster this engagement than at the school library? The library (public and school) has the resources and community connections to be the ideal arena for civic engagement (Ptacek, 2013).
It's often thought that young people aren't interested in civic engagement because they're only looking at traditional or conventional forms of engagement, yet research shows that young people are often civicly engaged in nontraditional ways (Harris, Wyn & Younes, 2007). Engagement often uses technology and social media. Libraries can capitalize on this engagement. What we need is a broader definition of engagement, to look at new forms of engagement and how youth are participating and foster that interest.
The Social Justice Youth Development (SJYD) model states that
"the capacity for youth to respond to community problems and heal from the psycho/social wounds of hostile urban environments." (Ginwright & Cammaraoa, 2002)
SJYD focuses on praxis, or "reflection and action upon the world in order to transform it" (Freire, 1993; quoted in Ginwright & Cammarota, 2002) and three levels of awareness:
Self-awareness-critique of stereotypes, active engagement of identity development

Social Awareness-community organizing, political education, youth exercising power in community institutions

Global Awareness-connection to others' struggles (Ginwright and Cammarota, 2002)
Youth want to be engaged and engage in nontraditional ways. Teen Vogue's surge in popularity after addressing political events is proof that youth are interested. Libraries are in the optimal position to aid young people in developing self-, social-, and global awareness. School libraries are uniquely positioned to assist students in exercising power in community institutions because libraries are a community institution. School libraries should develop collections and collaborations that foster civic engagement using the Social Justice Youth Development Model. If programs are built around developing the three levels of awareness, civic engagement will blossom among your students.
Some practical ideas:
Collection development should support the three levels of awareness. The library website should devote a section that encourages engagement and participation.
School libraries should have a youth committee that has a say in what their library is and where its going. This is part of the social awareness level. There is precedent for youth groups or teen advisory groups at public libraries, but not much has been said about having them in school libraries. School is a significant part of a young person's life, why shouldn't they have more say?
In researching libraries and civic engagement I stumbled upon the ALA Center for Civic Life. I've been a member of ALA for years and I've been in library school for those years and this is the first time I've even heard about this part of the ALA. The CCL has some good resources for libraries looking to increase civic engagement. Their blog has a lot of ideas and is really interesting to read in general.
Libraries Transform Communities, another division of the ALA, has great resources for libraries of varying sizes that can be adapted to the school library media center.
The Skokie Public Library has a Civics Lab, a pop-up space that provides "thought-provoking materials and activities that will allow us to engage in open conversation and grow together as a community."  This is certainly an idea that any school library media center can develop and tailor to their particular community.
There's a Civics 101 podcast  from New Hampshire Public Radio that libraries and teachers can use to engage students.  
This is by no means an exhaustive list of ideas.  In fact, it's quite a small list. A starter list but it's there. The main point is we should be giving our students the opportunities to engage. We should be supporting their attempts at engagement, in whatever manner they choose and we should encourage students to initiate and manage their own engagement efforts.
References
Edwards, M. A. (2002). The fair garden and the swarm of beasts: The library and the young adult. American Library Association.
Freire, P. (1993). Pedagogy of the oppressed: New revised 20th-anniversary edition. New York: Continuum.
Ginwright, S., & Cammarota, J. (2002). New terrain in youth development: The promise of a social justice approach. Social Justice, 29(4 (90), 82-95.
Harris, A., Wyn, J., & Younes, S. (2007). Young people and citizenship: An everyday perspective. Youth Studies Australia, 26(3), 19-27.
Ptacek, B. (2013, September 4).  The library as catalyst for civic engagment. Library Journal. Retrieved from http://lj.libraryjournal.com/2013/09/future-of-libraries/the-library-as-catalyst-for-civic-engagment-reinventing-libraries/